Listing a Product
The Boson dApp​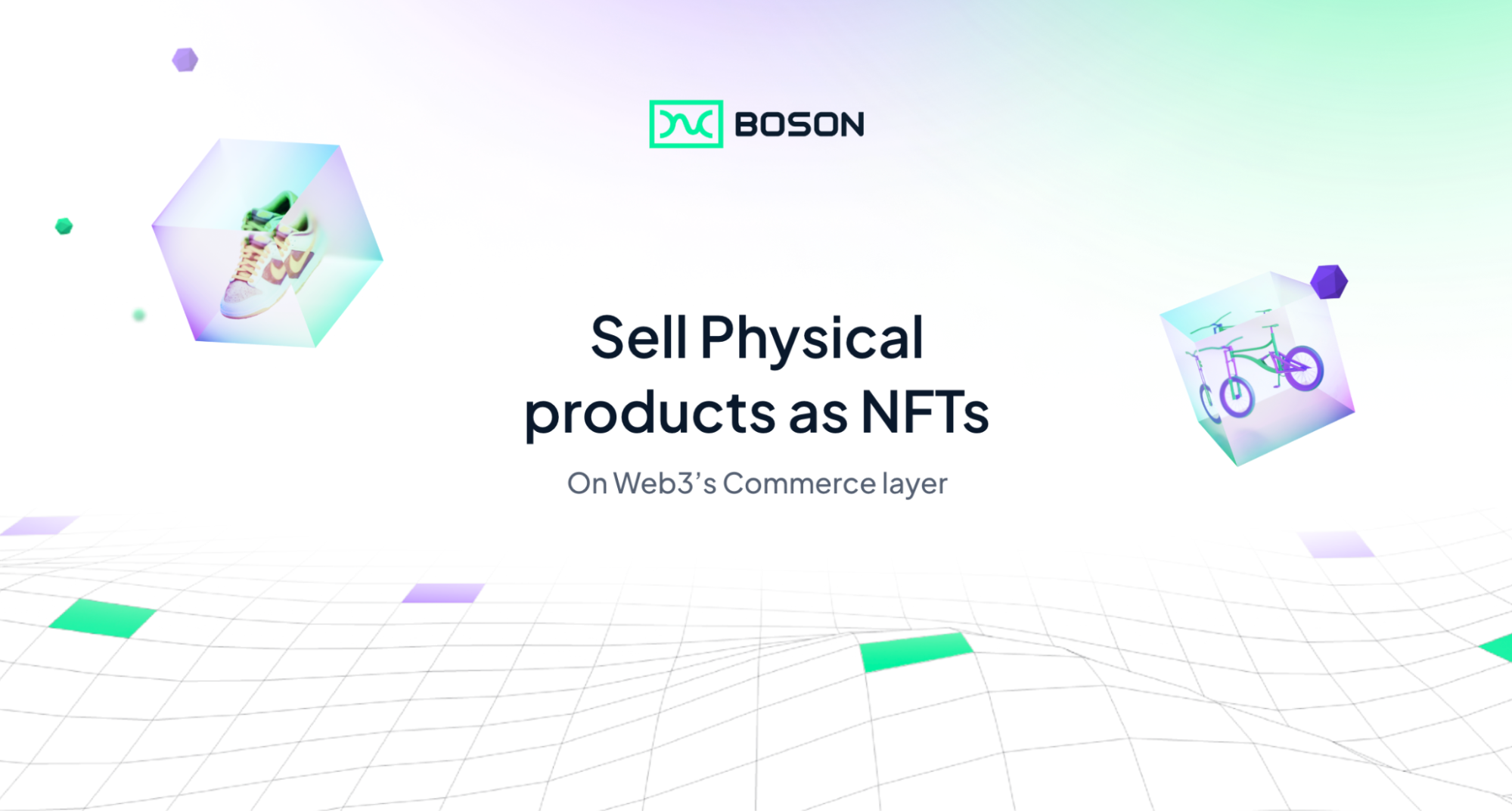 The first decentralized marketplace built on Boson Protocol allows you to tokenize, trade or transfer any physical item as an NFT​
In this tutorial, we walk you through the process of creating a listing in your storefront using the Boson decentralized application (dApp).
Creating a storefront with Boson allows you to sell physical - or phygital - items in a Web3-native way that anyone can use and everyone can trust.
Whether you are selling with a user profile or via a custom storefront storefront (we cover setting up profiles and storefronts in different posts), click 'Sell' in the top menu bar and here we go…
The Boson dApp has been launched on Polygon and will then expand to other EVM compatible/equivalent L1s/L2s later.
Connect the dApp to your wallet; you need to have added the Polygon network and to have some MATIC in your wallet to cover transaction fees, which should be minimal.
Select the product type​
A phygital item is one that exists both digitally (in the form of an NFT) and also in a physical form. In other words, the digital item is a visual representation of the physical. This new type of asset bridges the physical and digital world, allowing you to grow your audience by experimenting with utility NFTs, especially in the Metaverse.
If you are selling a phygital item, select this option. Otherwise select the default 'Physical' option.
Does your product have variants? Variants are alternate forms of the same product, such as a hoodie that might be available in different colours and/or sizes.
You can use the variants tool instead of manually creating a new product offer for each size, colour or other point of difference.
Click Next when you are ready to move on.
Product description screen​
Explain to buyers exactly what your item is using the title and description fields.
Tell them about its unique features, or why you are selling it. The goal is to tell them why they should buy it. As with selling on any other marketplace, you should aim to provide clear, factual information about the product, for example, the fabric composition or - if you are listing a vintage collectible - the exact condition of the item.
Categories help focus search results, so it's best to select an existing category if appropriate. If It is truly unique, you can create your own category by filling in the "other" category field. Select a category using the dropdown menu.
Further down on the same screen, you will see an input field for search tags, to further refine where your product appears.
Search tags are used to help buyers quickly identify the genre and category of your item. You can use them to differentiate your own products or to increase your item's visibility for buyers who may be looking for similar items. Examples of tags could be #sneakers or #BAYC. There is no limit to the number of tags each item can have.
Attributes help buyers to understand your products. Here you can add specific details, for example material, colour, size. Use the left box for the attribute and the right-hand box for the description, for example: Size | Medium
Additional Information​
Not all sellers will need to expand and fill in the 'Additional Information' fields.
However, larger-scale merchants who have multiple items for sale will find this section invaluable for entering inventory information and other identifiers for products.
This is where you can enter commonly used commerce information such as SKUs, product identifiers such as serial numbers, brand information and manufacturer model numbers.
None of these fields are mandatory, so you should feel free to ignore the fields hidden in this dropdown if they do not apply to you.
Product Images​
Pictures bring your item to life and improve buyer confidence. Don't forget to include different angles, e.g. top, bottom, front and back as well as any that highlight special features. To reorder, drag and drop images on the grid.
When you are happy with your picture selection, click Next.
Terms of Sale​
This is where you specify the contractual details of your offer, including the price, available quantity, validity period, the redemption period and any special conditions such as token gating.
You can list in any supported ERC20 token, or in ETH. If you choose to list in $BOSON, there will be no fees levied. Also bear in mind that transaction fees will be denominated in $MATIC as we are using the Polygon network.
Make your offer exclusive by limiting the ability to purchase your item to users holding a specific token. For example, you may want to make products available only to people who hold $BOSON or even to the person who owns a particular Bored Ape NFT. This is known as token gating. The token you select can be either an ERC-20 or ERC-721 [functionality coming soon].
The redemption period is the time during which the buyer can trade their rNFT. Generally, the longer the redemption period, the better, as this means the buyer will be able to benefit from the option to trade it on secondary markets. However, only make this period as long as you feel comfortable storing the physical item for.
When your offer period expires, buyers are no longer able to make a commitment to buy the rNFT.
Terms of Exchange​
The exchange policy covers the contractual terms of the exchange to protect both seller and buyer. This includes the obligation of both parties to follow through with their commitment, and to evidence requirements in case there is a dispute. The policy also includes fair protocol terms, to make it easy for sellers to set up a fair exchange.
If the buyer fails to redeem the item within the redemption period, they will receive the refunded payment minus the buyer cancellation penalty. This penalty is to cover inconvenience caused to the seller.
The dispute period is a minimum of 30 days post-redemption.
Fees​
Protocol Fee The protocol fee of 0.5% is only charged on happy path exchanges, meaning the rNFT was redeemed and the exchange was finalized without a dispute. If offers are priced in $BOSON tokens no protocol fee is charged.

Dispute Resolution Costs - Boson Protocol ensures the trust-minimized exchange of on-chain value for off-chain assets. Dispute resolvers are called upon when an exchange is escalated (when buyer and seller can't resolve the dispute amongst themselves). For launch, there is only one dispute resolution service available. This service will cost sellers $2 per committed offer.
Dispute Resolver​
If a buyer raises and escalates a dispute because either they have not received the item or they are not happy with the item they have received, the Dispute Resolver steps in to resolve the dispute. Both buyer and seller will be asked to submit evidence, based on the nature of the dispute. In the longer term, any third party will be able to volunteer to be a Dispute Resolver, although for launch, there is only one option.
In a seperate article we will cover the dispute resolution flow in detail.
Click Next once you have assigned the resolver and the period of time you want to allow for dispute resolution.
Shipping Info​
On this screen, define the country you are dispatching from and all regions you are prepared to ship to, along with the expected delivery time.
You may optionally wish to add values for parcel measurements and weight, as well as a url to the redemption point (this is set by default to the Boson dApp).
Confirmation Screen​
This is where you get the opportunity to review and confirm everything you have entered so far.
Preview your product detail page and when you are happy you have entered all the relevant details, click Confirm.
Remember that because this is an on-chain transaction, you will not be able to go back and edit product information later - you would have to create a new offer.